3 Steps to Successful Veterinary Marketing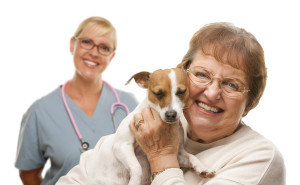 Now more than ever, having a digital presence is essential, especially for a veterinary clinic. While it may not seem necessary for a medical clinic to offer such essential services for pets, the truth is that veterinary clinics are just like any other business. With a large amount of competition and the importance of the Internet in 2016, veterinary clinics need a way to get a leg up on the competition and remain visible to potential customers. According to statistics, 56% of businesses gained at least one customer after establishing a web presence. And even simple tactics like email marketing can bring in $40 for every dollar spent.
But how does veterinary marketing work in the first place? If you're looking to get started on veterinarian practice marketing, here are a few veterinary marketing tips you need to know:
Step 1: Build a Website
Having a strong web presence is the first essential step to veterinarian marketing. Find a professional website company to create a site that's easy to access, visually appealing, and speaks to the brand of your veterinary practice. Make sure your veterinary web design includes the name, address, and contact information clearly on the site. There are veterinary website templates available that will help your site display everything it needs to.
Step 2: Create Content
Content achieves many things for a website. Firstly, it helps to draw in audience members and engage interest in your website and brand. Secondly, it helps your veterinary practice to establish a brand and a voice in the industry. Thirdly, it helps to create a higher domain and authority and general authority among competitors in the industry. Having unique, and fresh content that is relevant to your industry will help your blog and veterinary practice to thrive.
Step 3: SEO and Social Media Outreach
Once you have your website and content, it's time to promote it and make sure that customers are able to find it. Enlist in the help of a veterinary SEO specialist to help you optimize your site. Additionally, use social media platforms such as Facebook and Instagram to promote your content and services.
What do you think of these veterinary marketing tips? Let us know in the comments below.