5 Tips to Marketing your Veterinary Practice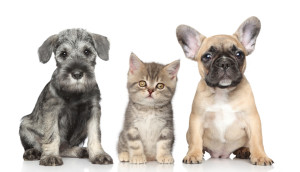 The veterinary world — a very essential part of any pet-lover's life — is a very established practice, yet it does not seem to receive the veterinary marketing recognition it always deserves. Many veterinary websites struggle to market their hospitals and clinics to their clients (or to potential new customers). These days, Internet search has a return rate of roughly $22 for every dollar spent on marketing, so it's important to hop on this essentially free marketing stint by maintaining a professional website. Here are five website design tips and tricks for your practice.
An "About" Page New visitors will always be looking for this page in order to understand what your veterinary practice is all about. An about page should be friendly and include facts about the company, such as when it was founded, hours of operation, and what type of services you offer.
Contact Information The best veterinary websites will always have a contact information box or page. Usually found at the bottom of a screen because this is easiest to find, contact info should include an email address, physical address, fax, phone, or social media sites for your customers to reach you.
Purpose Ever wonder why a site exists? Make sure on your home page to include the purpose of your website. Veterinary websites should include things such as "We offer top of the line pet care…" Don't get too specific or jargon-y, this could put off potential customers.
Quality Graphics More and more often these days, a potential client's first impression of your practice is decided on the appearance of your website — so it best be good! Use complementing color schemes, embedded videos, or photos that express what you do best.
Navigation There is nothing more frustrating than not being able to successfully find the information you need on website. Poor navigation will lead potential clients to click away — and to your competitors' sites. Be sure to have a well laid-out sidebar or cross bar as well as a home page button on every page.
A professional web presence that accurately represents your practice is one of the best things you can do to promote your veterinary clinic. Veterinary websites should be just as important for your business as the quality work you provide. So why not let professional veterinary website designers do the hard work for you of designing your website, while you can relax and focus on what you enjoy doing best — being a veterinarian.