A Good Vet Website Makes a Powerful First Impression, But So Does a BAD Website…
Ever since that first AOL CD-ROM was delivered in the mail all those years ago, people have been asking themselves, "But do veterinarians need websites?"
Or, at least, veterinarians have been. Even in 2015, our veterinarian marketing company hears this question more often than you'd expect.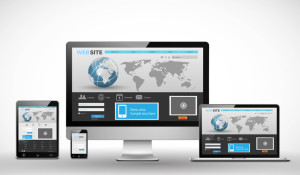 No, But Really, Do Veterinarians Need Websites?
Do retired veterinarians need websites? Probably not, unless you really wanted to get into blogging as a hobby. Otherwise, the answer is a definitive yes.
Here are the facts:
At least 80% of Americans ages 18 to 34 will use search engines to find their veterinarian. In fact, most young people will check several veterinary clinic websites before making a decision. And it's not just young people. In 2015, 64% of Americans use search engines to find local businesses.
How To Turn Online Traffic Into Foot Traffic
The first impression most customers will have of your business is already made by the time they walk through your clinic's doors. That's because a professional website is a powerful first impression. Unfortunately, a mediocre or outdated website also makes a powerful first impression — just not the one you want to make.
A well designed veterinarian website tells customers everything they need to know about your business. That doesn't just mean crucial facts like your address, hours, and services offered, but the kind of business you are. Are you a family business? Do you pride yourself on customer service? Do you have decades of experience? These are all facts that can persuade pet owners to come on down to your clinic.
My Website Isn't Performing Well, Can You Help?
One of the reasons so many people still wonder, "Do veterinarians need websites?", is because their website isn't performing. Either it's not ranking highly enough on Google, or it's just not converting into real-world leads. Almost always, this is because the veterinarian marketing manager is taking a 20th century approach to a 21st century medium.
Unlike phone books or print ads, a website needs to be regularly updated. You can't just build a website and then forget about it. In fact, that's one of the key ranking factors used by search engines like Google. Just because you build it, that doesn't mean customers will come see it.
Making your website more visible is a process called Search Engine Optimization, and it's essential for anyone looking for vet practice marketing advice. SEO for veterinarians is absolutely essential, just as it is for most small businesses.
If you don't have time to focus on veterinarian SEO or web design, then you can outsource these digital marketing needs to companies like ours. But no matter what you decide, it's essential to take a proactive role in managing your clinic's website.