How Important is Small Business Social Media Marketing, Really?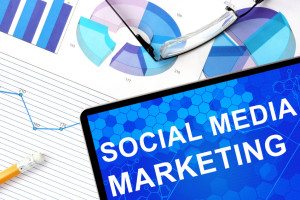 Hard numbers on the penetration of social media marketing in the business world are hard to find, but there's little doubt that social media marketing has become one of the top website marketing tips. From Fortune 500 giants to fledgling small businesses, social media has become an essential part of many companies' branding strategies.
And let's be honest: It's also a huge pain.
In one recent survey, 54% of small business owners said they needed help learning social media marketing skills.
Real Talk: Does your business need social media marketing?
There are many, many marketing experts who will answer this question emphatically yes without hesitation. They will tell you that social media is the future and that brands that don't have an active social media marketing presence will get left behind.
The truth is a little more complex than many "branding experts" would have you believe. Yes, social media marketing can be an invaluable tool for many kinds of companies. As a digital marketing agency focusing on veterinarians, we've written at length about the importance of social media for vets. However, too many businesses invest in social media without ever asking whether they see a return on investment.
In part, that's because the ROI from social media is notoriously hard to measure, which allows so-called marketing experts to spin the data however they want. If you're on the fence about social media marketing, then you need to honestly ask whether the time, money, and labor resources you will spend on social media apps could be better spent on other digital marketing strategies, like website optimisation tips or pay per click advertising.
If you run a business that provides an industrial protective coating for large industrial and municipal clients, then your marketing efforts will likely be wasted reaching out to people on Twitter. On the other hand, our firm has found that social media for vets can be a highly effective way to find new clients and network within a community. While social media for vets is a natural fit for animal care services, social media for industrial protective coatings just doesn't have the same ring to it.
Even if you decide NOT to spend time on social media marketing campaigns, there is one aspect of the social world that is 100% non-optional!
Small Business Social Media Marketing: The Most Important Tip You'll Read This Year
Let's say that our industrial protective coating client decides that a PPC campaign will offer a higher ROI than a Facebook campaign that doesn't mean you can ignore the social sphere altogether.
Whether you plan to actively market using Facebook, Twitter, Instagram or Linkedin, it's still worthwhile to create a profile for your business on these sites, as well as other local business directories. If nothing else, these profiles can be a great way to share photos from company events, and create another way for new customers to find you.
Most importantly, you must claim your Google My Business page!!!
This is a free listing, formerly part of the Google Plus experiment. Without an official Google My Business page, you will find it difficult to be listed in Google products, including search and Maps.