Three Reasons Email Marketing is an Important Vet Marketing Strategy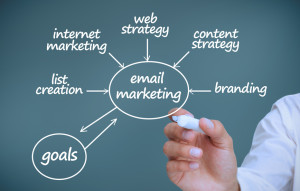 One of the reasons that the internet is such a huge part of marketing now is because it offers plethora of different ways that you can reach potential customers and clients. Now with the many different types of mobile devices, you can reach your customer anywhere, at any time (since we all know that we keep our smart phones by our side at all times). We've talked a lot about why part of veterinary marketing is having a quality professional website and how much people depend on search engines to find a vet, but another effective internet marketing strategy is using email. Here are three reasons that using email is one of the best veterinary marketing tips.
Reach your customers anywhere, at any time
This is true for almost any internet marketing tactic, but email delivers your message straight to your customer's inbox. Many people are logged into their email accounts on their smartphones, and anyone who owns one knows that when you get a notification on your phone it's pretty difficult not to check it immediately. Emails can be sent any time of day or night, and will be waiting in your customer's inbox when he or she is ready to check it.
Offer promotions
One of the best things you can do with email marketing to encourage customers to come into your clinic is to offer special email promotions. If you're offering a new special service, say so. Remind your clients about yearly testing and procedures or tell them about new pet products and medicines that you have in the clinic. There are plenty of opportunities to reach out to your clients.
Get a review and a few recommendations
Another effective use for email marketing is to get reviews from your clients after they have been in the clinic for a visit. This is a good way to gauge your strengths and weaknesses as a clinic. You can respond to your weaknesses and improve, and focus on advertising what you do best. Furthermore, if a review is positive, you can ask that client for a few referrals.
Email marketing might seem like a tired and old-fashioned form of internet marketing, but the return on investment is $40 per one dollar spent. One of the reasons it is so successful is that it gives you the ability to reach your customers with a personalized message straight to their inbox (which more often than not is actually in their pockets), but there are also different peripheral benefits that come along with the reach and availability. You can better your veterinary marketing practices by learning about what you do best from customer reviews offered through email and gain new customers through a referral system.