Why You Need SEO (and Why You Should Outsource it)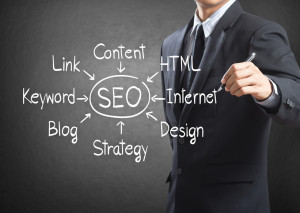 We all know now that having a quality veterinary clinic website is an important foundation for internet marketing. Once you have a well-designed website with accurate information, you need to optimize it with search engines in mind, and search engine marketing has become one of the cornerstones of promoting a business's online presence.
The reason SEO is one of the most common veterinary marketing tips is that people turn to search engines like Google, Bing, and Yahoo to find what they're looking for. Need some information? More often than not, the answer is "Google it". In fact, almost 65% of Americans use search engines to look for businesses that offer a product or service they are looking for near them, and it isn't up to chance or some internet magic that a potential customer comes across your clinic's site.
This is where SEO comes in. Google uses algorithms to evaluate and rank websites, and the higher your website appears in the rankings, the better. Over 40% of search engine users click on the best ranking link in the listings. There are paid ads which appear at the very top of the page which you can take advantage of as well, but more than 75% of people prefer to click on organic as opposed to paid links.
There is just one caveat here. Search engine optimization requires a lot of time and effort, which you may not have time for when you're busy fitting Fido for an Elizabethan collar or dispensing heart worm medication. Google updates its algorithm pretty frequently, and your SEO tactics have to be changed accordingly. Furthermore, part of SEO is creating high quality original content, which requires time, resources, research, and a creative mind.
If you are not tech savvy or don't care to learn the wily ways of Google, then outsourcing your SEO might be ideal for you. Rather than finding, hiring, training, and managing your own SEO team, someone else can do it for you. Ten percent more of marketers who outsource their SEO to an agency report being satisfied with their program performance than people who take care of their SEO in house.
As with outsourcing professional website design and other important marketing tactics for your veterinary clinic, outsourcing SEO allows you to reap the benefits of it without any of the hassle while being able to focus on your core business.