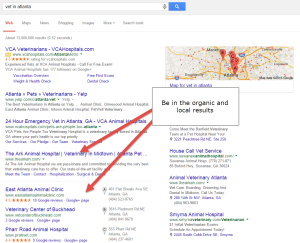 Unless you're a young veterinary prodigy born after the year 1995, then you probably remember life before the internet. Unfortunately, that puts you at a disadvantage compared to the tech-savvy Millenials who've spent half their lives staring at a screen. If veterinary seo makes you feel like a stranger in an even stranger land, then it's time to play catch up.
So if you're wondering how to market your new vet clinic, then basic veterinary SEO should be your top priority. The vast majority of all online experiences begin with a search engine, and almost 60% of people research new products and services online, according to Pew Internet. Not only that, but 42% of the people searching for a new vet will end up clicking on the very first result they see.
To give your veterinarian website an edge, you need to appear on the first page of search results. Then, you need to get to the top of that page in the organic and local results. So, how do you make that happen? That is where our services come into play.
Initial Keyword Assessment
Learn exactly which search terms potential customers are using to find veterinarians in your city. The more specific the keywords, the better. We'll review the keywords your competitors rank for in the search engines and also interview your staff to understand which keywords make sense for your veterinary practice.
Onsite Optimization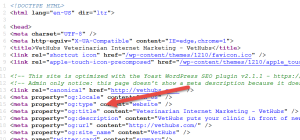 Once the keywords are selected, our will review your veterinary website to make sure you have content that answers the questions of potential searches. In many cases, we will update your content to better match the queries of your searchers. Our team understands seo for veterinarians because its all we do. In some cases, our team will create new content for your website. The most common example is to expand your services content to be more specific about the reasons that services are needed and specifically what your team does for new patients.
Keeping fresh content on your website is the next step for veterinary seo. Once we get your website optimized, our team will continue to post relevant information to your blog on a monthly basis.
So our approach gets your website optimized and then keeps things fresh each month.
Local Directories
A critical part of your presence in Google is the local search results. Our veterinary seo services have you covered:
First, we claim your Google My Business listing. Google My Business is the largest online directory.
Next, we use Yext Powerlistings to claim citations on 50+ powerful directories. Yext gives your business quick access to the other half of the local search results. Additionally,
Website Promotion
Once we have the onsite optimization and local directories complete, our team will work to build links to your website. Links are like votes for Google. Gaining links to your website improves its power and authority which improves the visibility in the search rankings.
Our link building approach includes a competitive analysis of where other people are building domain authority. We attempt to secure similar links and then we look for ways to promote the content that our team produces.
Social Signals
Promoting your content placed on your website as well as the content syndicated to publishing partners is a great way to keep your current clients informed. Additionally, it helps search engines see that you have engaged user and improves your vet seo. Our team will promote your content to your Twitter, Facebook and  Google+. If you'd like to do more social media, our team can help with custom packages.