Three Vet Website Design Trends We're Seeing in 2015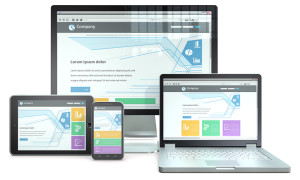 As time goes on, it's becoming more and more clear that simply having a website isn't good enough. A website has to begreat. It has to have useful and interesting information, an attractive and user-friendly design, and be optimized for ranking highly in the search engine results. Most people do turn to the internet to find a service they're looking for. In fact, eight in 10 people between the ages of 18 and 34 use search engines to find a vet. If they don't like your site, they'll click away in two seconds. Here are a few trends in vet website design we're seeing in 2015 that will help keep clients on your site.
1. Responsive web design
This is one of the most important parts of web design in 2015. With Google's announcement that mobile capability will be included in the ranking factors, this means that it's more important than ever that your site be optimized for viewing across all screens — from desk tops to tablets to mobile phones.
2. Huge images
Another big website design trend this year is the rise of large images. More and more websites are using large images to serve as the backgrounds for their websites. This can be an attractive design, but there are a few things to look out for here. Make sure you use high-quality images or it's just not going to look good. Also, adding large images could cause your page to load more slowly, which users also don't like, so keep that in mind.
3. Minimalist design
Building a professional website is as much about usability as it is aesthetics. Sure a website might look great, but if it's tough to use or confusing, people are going to leave the site pretty quickly. Vet website design should be clean. This means designing for ease of navigation as much as possible and making sure that there aren't too many things clogging up a page.
Design is always going to be one of the most important parts of a website — for any business, even veterinarians. Not only does it help draw business in, but it helps provide consistent brand recognition and identity. Almost 65% of Americans use the internet to find local businesses. Vet websites should be responsive, easy-to-use, and visually attractive.